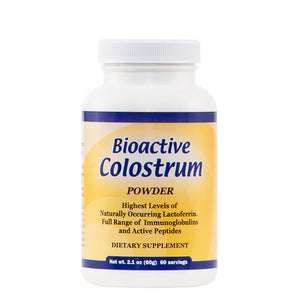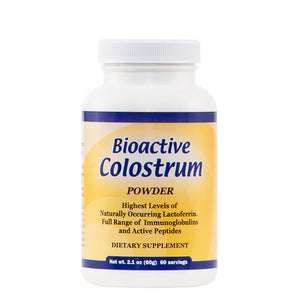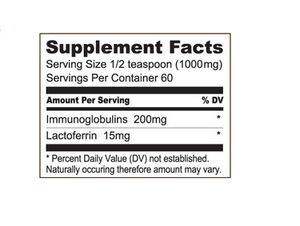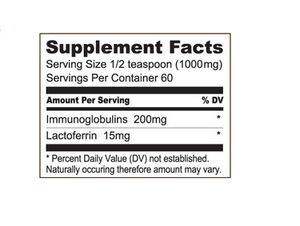 On Sale
Bioactive Colostrum
Why Bioactive Colostrum?
Biologically Active Colostrum best maintains all original regenerative and immune enhancing native components. It is minimally processed to avoid damaging the full range of the original proteins and active peptides. The optimal way to take colostrum is in a powder form which allows it to circulate in the mouth before swallowing. Bioactive Colostrum™ is derived from cows that are grass-fed on natural pastures. It is always GMO-Free and never derived from products produced with genetically modified organisms. Bioactive Colostrum is Hormone-Treatment-Free, antibiotic-free, and BSE-free.
Biologically Active Colostrum may help stimulate a compromised immune system or modulate an overactive immune response as occurs with autoimmune diseases. It may be helpful in the treatment of CFS, FM, AIDS, and gastrointestinal disease. Colostrum accelerates healing of all body tissue, helps weight reduction, increases bone and lean muscle mass, and slows down and even reverses aging. According to the well-known naturopathic physician, Dr. Bernard Jensen, colostrum has a therapeutic role to play with heart disease, cancer, diabetes, autoimmune diseases, allergies, bacterial, viral and parasitic infections, gingivitis, colds, and the flu. Colostrum has powerful antioxidant properties, is anti-inflammatory and is a source of many vitamins, minerals, enzymes and amino acids if it is unprocessed and in its original natural state.