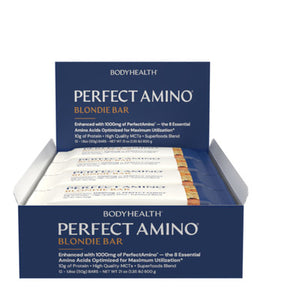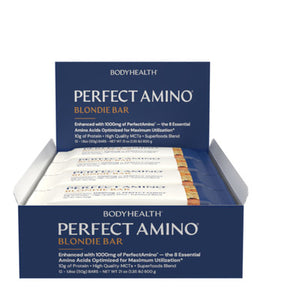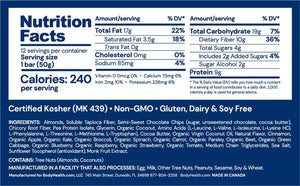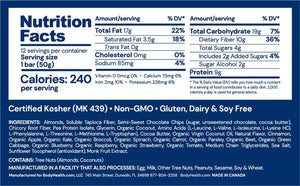 On Sale
BodyHealth Bar Blondie
We're Raising The Bar - Don't Go Hungry!
The perfect protein snack bar to give you energy to keep you going through the day!
What do an on-the-go business person, the stay-at-home parent, and a professional athlete have in common?
They all need a convenient quick, easy, delicious, and nutritious snack that provides clean-burning energy and a boost of nutrients your body needs to be at peak performance.
The BodyHealth Bars are delicious, appetite-filling, nutritious bars that will enhance your life and your daily routine. They can tackle hunger and provide a stable source of energy. Fortified with PerfectAmino, all bundled together in a delicious Blondie or Brownie flavor bar. Whether you are on a weight-management journey, keeping it low-carb, living a vegan lifestyle, or just want a tasty snack for you or your kids to tide you over through the day, this is the perfect bar for you.
The revolutionary new BodyHealth Bar offers:
Two delicious flavors
10 grams of high-quality protein fortified with

 

PerfectAmino
High-quality MCTs for energy and to satisfy hunger cravings
Gluten-free, vegan, kosher, non-GMO, free from soy, egg, and dairy
Only 7 net carbs per bar!
Free from sugar alcohols or artificial sweeteners
A formula enhanced with our organic superfood blend
Total convenience (no, you don't have to refrigerate it)
This groundbreaking bar delivers the goods, naturally, and can help you:
Feel more energetic throughout the day
Support healthy brain function with MCT oil
Support muscle growth and repair with PerfectAmino
Support your immune system with organic superfoods


With only four grams of sugar in each bar, we provide delicious sweetness with pure monk fruit (no Erythritol or other sugar alcohols) to satisfy your sweet tooth while keeping your system in fat-burning mode. Two delicious flavors, on-the-go protein bars to help you maintain your active lifestyle.
In a rush in the morning? Not enough time to make breakfast?
Traveling?
Craving snacks between meals?
Tired of eating almonds, string cheese, or unhealthy snacks?
Are you starving after your run or workout and don't have time to cook?
43-time Ironman triathlete, Dr. David Minkoff MD, designed the BodyHealth bar to help you curb those cravings with these two delicious bars.
Nutrient-dense, made with whole-food ingredients and fortified with PerfectAmino, the BodyHealth Bar provides a delicious, quick, and easy solution to your hunger with vegan-sourced whole food ingredients that are non-GMO and free from dairy, soy, and eggs.
There's no better way to fit your macros while satisfying your sweet tooth!
Along with being a good source of protein, it has green superfoods and high-quality MCT oil for clean-burning sustained energy.
In two flavors, Brownie and Blondie, this is remarkably satisfying – and tastes good too. The 230 calories in each bar give you energy and sustenance, all with only 7 net carbs.