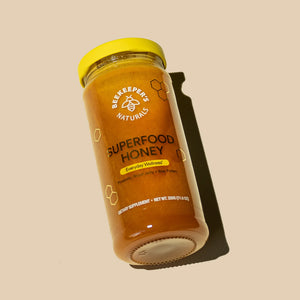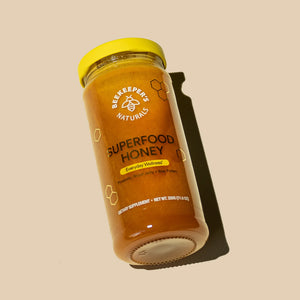 On Sale
Superfood Honey 330g
Superfood Honey combines ALL the superfoods of the hive to fuel your mind and body! Our healing blend includes immune-supportive propolis, brain-nourishing and skin-beautifying royal jelly, energizing bee pollen, and—of course—our signature raw enzymatic honey.
SUPERCHARGED SUPERFOODS
Raw, enzymatic honey infused with royal jelly, bee pollen and propolis
Improve energy levels (pollen) 
Support your immune system (propolis) 
Enhance cognitive function (royal jelly)
USE FOR
A Boost Of Energy
Overall Daily Nourishment
Broad-Spectrum Vitamin And Mineral Support
Build a Routine: Take a spoonful of Bee Pollen and Superfood Honey before you hit the gym for a clean, nourishing pre-workout boost of energy.

WHAT IS PROPOLIS?
Propolis is the defender of the hive. Bees use it to line the walls and keep germs out. We use it to support our immune systems, soothe scratchy throats, combat free radical damage in the body, and feed the good bacteria in our gut.
Vitamins B, C & D
Zinc
Antioxidants
300+ Beneficial Compounds