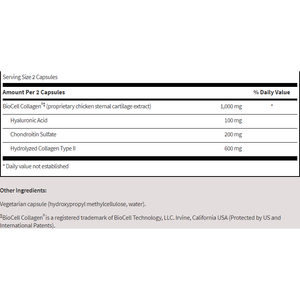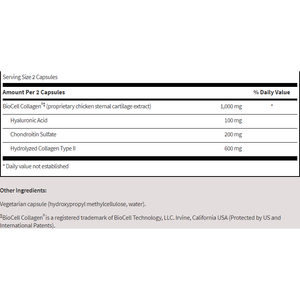 On Sale
Collagen Type II
BioCell Collagen
®
 is hydrolyzed type II collagen that provides a complex matrix of elements (collagen type II, chondroitin sulfate, and hyaluronic acid) that support joint and skin health.
†
 As we age, the body's ability to make the collagen slows down. BioCell Collagen is a concentrated bioavailable and bioactive formula of naturally occurring molecules that play a vital role in the body's ability to maintain healthy connective tissues, flexible joints, and youthful-looking skin.
†
 Together these elements provide multi-dimensional nutritional support that helps the body more effectively support connective tissue health. BioCell Collagen is non-GMO and free of gluten, soy, shellfish, fish, egg, milk, peanuts, and sugar.
†