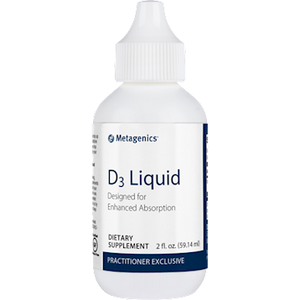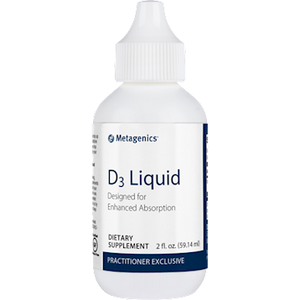 On Sale
D3 Liquid
Why Vitamin D3?
Your body produces natural vitamin D when your skin is exposed to direct sunlight. However, many people don't get enough sun every day, especially during the dark, cold winter months. While minimal amounts can be found in foods like salmon, vitamin D is also available in supplement form for daily use. D3 Liquid from Metagenics is a natural dietary supplement that contains cholecalciferol vitamin D3 to help support your overall immunity and bone strength, and to support optimal overall health as well. It can be difficult to get kids to swallow pills, and Metagenics Liquid D3 solves that problem. This is the ideal liquid supplement for children, and delivers ease-of-use and a great taste. Every batch is made without the use of most common food allergens, and one drop can be taken up to five times every day in support of better health.
Manufacturer's Description
Contains vitamin D3 solubilized in oil to support optimal absorption in your intestinal tract

Provides the convenience of flexible dosing and is easy to use

Promotes healthier bones, and supports optimal immune, neurological, and cardiovascular health

Comes in a great-tasting natural mint flavor

Completely gluten-free
Note: It is highly recommended that serum 25(OH)- and 1,25(OH)2-vitamin D be monitored every 60-90 days while consuming this product to ensure that levels remain in an acceptable range.
Formulated to Exclude: Wheat, gluten, soy, dairy products, egg, nuts, tree nuts, fish, crustacean shellfish, colors, and artificial flavors. This product is manufactured in a facility that produces products containing soy, tree nuts, and crustacean shellfish.