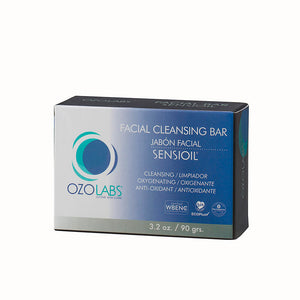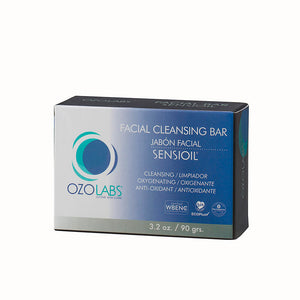 On Sale
Facial Cleansing Soap Bar (90g)
PLEASE NOTE: OZOLABS Facial Cleansing Bar should not be used in conjunction with exfoliating treatments or any other skin treatment.
New soap formula now includes Alexandrian Laurel Seed Oil, Baobab Seed Oil, Chia Oil and Inca Peanut Oil.
Our ozone Facial Cleansing Bar provides lasting hygiene for your skin, cleansing it in depth without drying it. Perfect for the sensitive skin of your face and hands, the facial soap bar should be the basis of your skin care protocol. The Cleansing Bar should be used consistently before applying creams or oils to the skin. The Cleansing Bar effectively replaces make-up remover and skin cleaning solutions. Our facial soap bar cleansing properties arise from our proprietary blend of ozonated oils without harming it. As is the case with the rest of our products, even if you use it every night, this soap will last for months.
In order to promote the penetration and action of our ozone cleanser on your skin, we recommend the following use: Wet your hands with warm water, roll the bar between your hands about four or five times and place the bar aside. Keep rubbing your hands until you create abundant foam. Apply the foam on your skin by rubbing your face and hands until it is totally absorbed. At this point, the foam will look and feel as an emulsion on your skin, let it be absorbed for two or three minutes and rinse with lots of warm water.
For facial care, follow the spirit of the steps above. Gently massage your face with your hands until the foam appears, then let it be absorbed by your skin for a few minutes and rinse with abundant water.
Warning: DO NOT use this soap concurrently with exfoliating treatments as a skin irritation may occur.