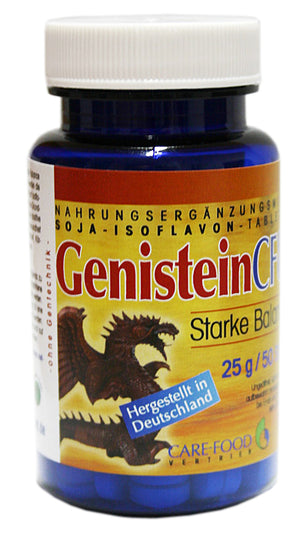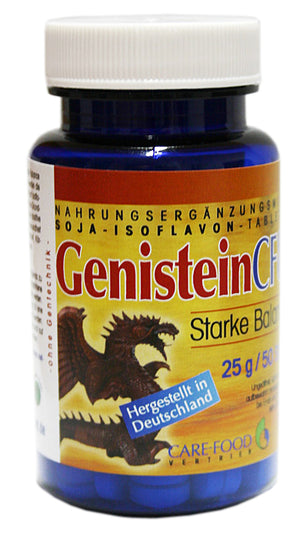 On Sale
Genistein CF80 (80 mg): 50 tabs
GenisteinCF80 is a high quality dietary supplement and contains only natural isoflavone genistein and no synthetic flavonoid derivative, manufactured in Germany.
Genistein is obtained from the soybean. The for more than 3000 years in China cultivated soy plant is today, no longer valued by the very high proportion of isoflavones, especially genistein only as food and protein source.
People in Asian countries take about 15 to 20 times more soy per day to as z. B. the people in Western Europe.
Statistics of general health condition and the susceptibility to specific diseases, compared from Asia to Europe, underpin the known beneficial properties of isoflavones contained in soy.
Like all isoflavones, genistein and is a so-called. Phytochemicals and belongs to the family of "phytoestrogens".
Genistein is also called antioxidants and has positive characters, for example: the immune system, the total-cholesterol and calcium household, as well as the classic menopausal symptoms.
For further information see "Links"
NOTE:
Dietary supplements are not drugs!
All products that are advertised with a healing effect, apply before the law as a drug and must be approved accordingly. Dietary supplements include legally to the group of foods. A disease-related advertising, the law prohibits.