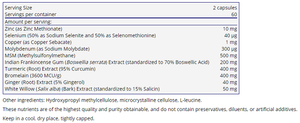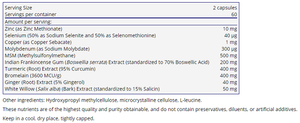 On Sale
InflaMed
Why Inflamed?
InflaMed combines a synergistic blend of herbs, nutrients, and proteolytic enzymes which provide nutritional support for connective tissue and joint tissue. Working together as a team - the blend of herbs, proteolytic enzymes, minerals and other beneficial nutrients in this supplement make a formula designed to help you addressa host of painful symptoms. Allergy Research offers InflaMed as a dietary supplement intended to provide nutritional support for your joints and connective tissue. Your entire skeleton is connected by ligaments, cartilage and tendons. They are what make your joints work. But sometimes these tissues can become damaged or wear out over time. That can cause discomfort when you move around or put pressure on certain areas. The ingredients found in InflaMed have been chosen to nourish your connective tissue - potentially helping your body repair it and restore joint health.
Product Details:
Joint Health Supplement

Contains blend of herbs, enzymes minerals

May reduce joint discomfort and improve mobility

Hypoallergenic
Because the nutrients needed for connective tissue repair may not be easily obtained through a typical diet, supplementation could be a smart move to resolve the pain, swelling, achiness and inabilityin order to move like you used to. Instead of covering up the symptoms, consider a product that could help your body repair itself. Discover relief from discomfort through good nutrition.