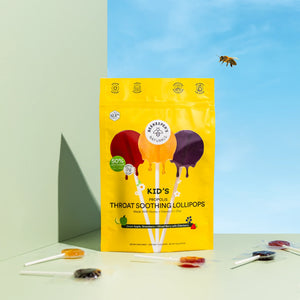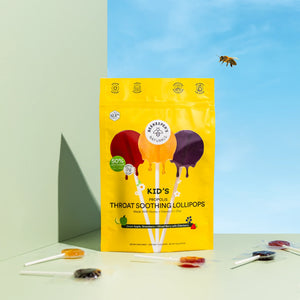 On Sale
Kid's Throat Soothing Lollipops
Our best-selling lozenges, now in a kid-friendly lollipop. Each lollipop is formulated with Propolis Extract, Vitamin D, Zinc, and Wildflower Honey to soothe scratchy throats and support immune systems. They'll never know it has 50% less sugar than the leading lollipop lozenge. There are three flavors included in each bag: Green Apple, Strawberry, and Mixed Berry w/ Elderberry.
A DELICIOUS DOSE OF DEFENSE
Soothe dry, scratchy throats with clean, effective ingredients
Support immune systems with Propolis, Vitamin D and Zinc
Each lollipop delivers antioxidants like flavonoids and polyphenols
2 grams of sugar in each serving
50% less sugar than the leading lozenge lollipop
Use For:

Build A Routine: Support their immune systems all day long with 4 sprays of Propolis Throat Spray and Soothing Lollipops for all of life's sweet moments in between.
Delicious Immune Support

Soothes Scratchy Throats
Daily Dose of Antioxidants, Vitamins, and Minerals
WHAT IS PROPOLIS?
Propolis is the defender of the hive. Bees use it to line the walls and keep germs out. We use it to support our immune systems, soothe scratchy throats, combat free radical damage in the body, and feed the good bacteria in our gut.
Vitamins B, C & D
Zinc
Antioxidants
300+ Beneficial Compounds