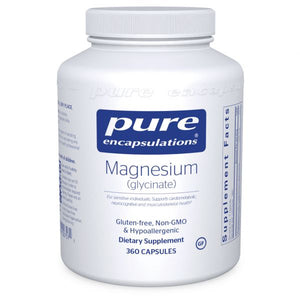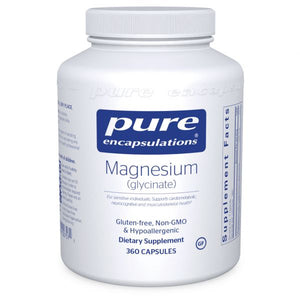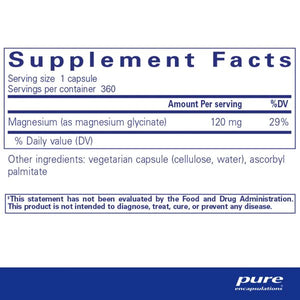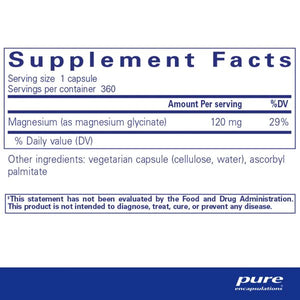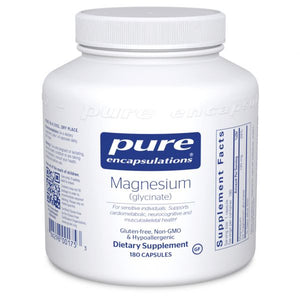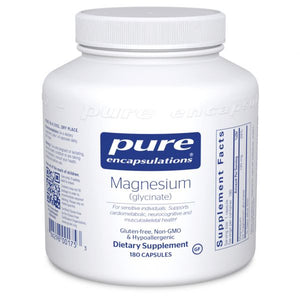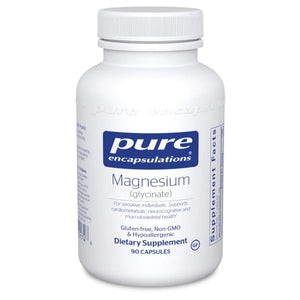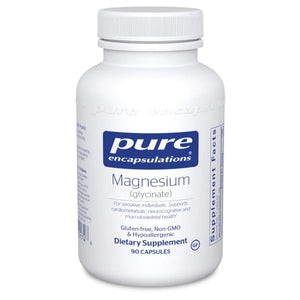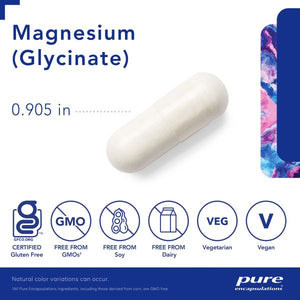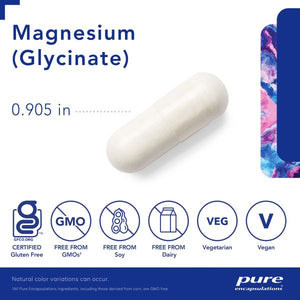 On Sale
Magnesium Glycinate
Why Magnesium?
The body has a high demand for magnesium due to the fact that it is involved in more than 300 enzymatic functions in the body and used up quickly under chronic stress! In the past mineral rich soil has provided us with enough magnesium, however, due to conventional farming methods our soil is much depleted of it making 60-80% of Americans deficient in this important mineral. Magnesium is a catalyst for energy production, protein synthesis, nerve function, and neurotransmitter release. It helps regulate blood sugar, blood pressure, cholesterol and helps produce the "mother antioxidant" glutathione – reducing your risk for heart disease. Magnesium is important in bone health, intestinal motility and sleep quality. Deficiency has been associated with insulin resistance, glucose intolerance, dyslipidemia, osteoporosis, chronic fatigue, anxiety, depression, hormone imbalance, PMS and hypertension. Most common causes of deficiency include: consuming less than 3 servings of vegetables per day, excess alcohol consumption, a diet high in sugar and phytic acid, taking prescription medications like antibiotics and diuretics and poor digestive absorption due to leaky gut. A diet high in carbohydrates or oxalic acid in foods like raw spinach and phytic acids in whole grains can cause also cause deficiencies. Magnesium Glycinate is a highly absorbable form of magnesium because it is chelated and bound to amino acids in a unique, patented process that is designed to enhance absorption and intestinal tolerance of magnesium. It is also not dependent on stomach acid for it's absorption.
Manufacturer's Description
Magnesium activates the enzymes necessary for a number of physiological functions, including neuromuscular contractions, cardiac function, and the regulation of the acid-alkaline balance in the body. It is necessary for the metabolism of carbohydrates, amino acids and fats; also for energy production, and the utilization of calcium, phosphorus, sodium, and potassium. This vital mineral also helps utilize B-complex vitamins, vitamin C, and vitamin E. Magnesium glycinate is less likely to cause loose stools than other forms of magnesium. Magnesium in aspartate, citrate, citrate/malate, and glycinate forms are highly bioavailable magnesium chelates, supporting the metabolism and utilization of many essential nutrients and the proper functioning of important enzymatic and physiological functions.