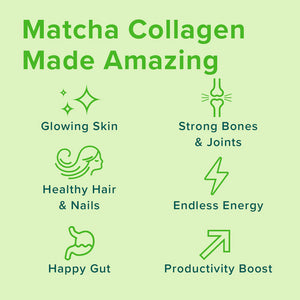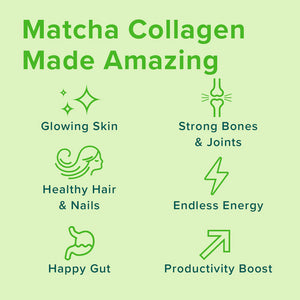 On Sale
Matcha Collagen (Further Foods)
A premium blend of our best selling collagen, organic matcha and stamina boosting organic cordyceps mushroom promotes all-day energy without the jitters.
WHY CHOOSE MATCHA COLLAGEN? 
27mg of caffeine and L-Theanine, naturally occuring from matcha, boosts productivity, improves mental clarity and focus+
Adaptogenic organic cordyceps mushroom increases endurance, fights fatigue and relieves stress+
8,000 mg of premium collagen peptides supports healthy skin, hair and nails, plus joint and gut health+
Delicious, superior tasting organic matcha cultivated by a 10th level Japanese Tea Master 
Packaged in 100% Post-Consumer Recycled jar
HOW TO USE MATCHA COLLAGEN
Add 1-2 scoops daily to hot water or milk for rich, full-bodied matcha tea or latte. Dissolves easily. 
Blend into smoothies or mix into baked goods for a nutritious boost.