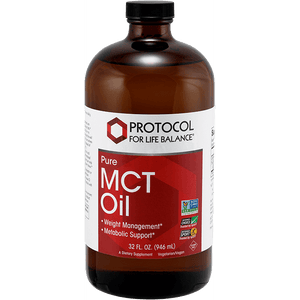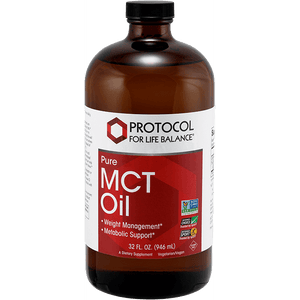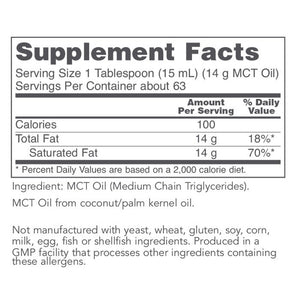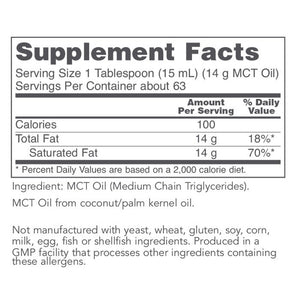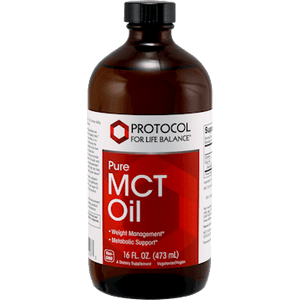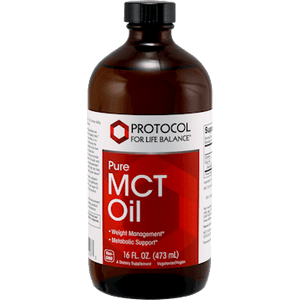 On Sale
MCT Oil
MCTs (medium-chain triglycerides) are fats that are metabolized differently than most dietary fats.* Unlike longer chain triglycerides, MCTs require little or no enzymatic breakdown and are easily absorbed across the wall of the small intestine and delivered straight to the liver where they can be used directly for energy production (instead of being stored as fat).* In essence, they act similar to carbohydrates, but without the requirement of insulin and with no effect on blood sugar.* Studies have demonstrated that MCT oil consumption along with a healthy diet can help to maintain a healthy body weight, while sparing lean tissue.* Protocol For Life Balance
®
 MCT Oil is derived from coconut/palm kernel oil that is sustainably sourced to protect our planet and preserve native wildlife habitats. MCT Oil has naturally occurring fatty acids Caprylic Acid (C8:0) and Capric Acid (C10:0). Per specifications, our MCT oil has 50 to 65% Caprylic Acid (C8:0) and 30 to 50% Capric Acid (C10:0). California Proposition 65 WARNING: Consuming this product can expose you to chemicals including lead which is known to the State of California to cause birth defects or other reproductive harm. For more information go to
 

www.P65Warnings.ca.gov/food
.
Suggested Usage
Take 1 tablespoon (15 mL) daily, or as directed by your healthcare practitioner.
Storage Guidance: Store in a cool, dry and dark environment in tightly sealed original container. After opening, product can be refrigerated or stored at cool room temperature.
Cautions / Interactions
If you are diabetic, epileptic or if you have liver disease, please contact your healthcare practitioner prior to using this product. MCTs can cause GI discomfort when used in high doses. Taking this product with food can reduce these effects.
Natural color variation may occur in this product.