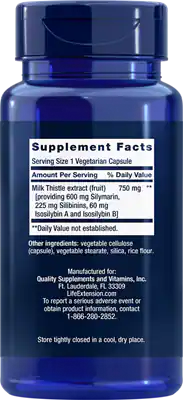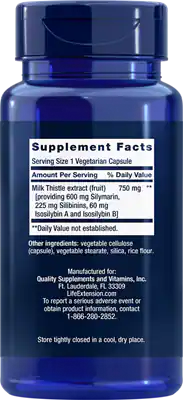 On Sale
Milk Thistle (Silymarin Silibinins Isosilybin A & B)
Our Milk Thistle formula provides the milk thistle benefits of silymarin, silibinins and isosilybin A and B. These milk thistle compounds deliver full-spectrum support for liver health.
What Is Milk Thistle?
Liver health formulas made with milk thistle have been in use for centuries. Our modern formula contains standardized doses of silymarin, silibinin, isosilybin A and isosilybin B. These active compounds are the ones that provide milk thistle's benefits and have been validated through scientific research.
Modern living imposes a heavy load on your liver. So keeping your liver healthy is critical to your overall well-being.
Milk Thistle Benefits
Delivers standardized nutrients to promote liver health & function
Supports the body's natural detoxification process
Encourages healthy cell division within the liver
Promotes overall health & vitality
The liver is one of the largest organs in the body. Its responsibilities include processing vitamins and nutrients from your food into forms that can be used by your body, recycling compounds (such as iron) from red blood cells, supporting the body's healthy clotting process, producing important hormones, secreting bile and converting sugars into glycogen. The liver is also responsible for the body's natural detoxification processes.
Healthy liver, healthy body
Modern living creates a heavy load on the liver, making it critical to proactively maintain liver health. That's where hepato-protective herbs such as milk thistle come in. Milk thistle contains antioxidants that support not only liver health, but the overall health of your entire body.
Silymarin is extracted from milk thistle. This extract is a powerful antioxidant that promotes healthy liver function in its own right. But advanced extraction technology has now allowed us to isolate other constituents within the silymarin extract itself, and test their ability to support liver health and beyond.
Other compounds in our milk thistle extract
Silibinin is another compound present in our high-quality milk thistle extract. Made up of silybins A and B, it is the most biologically active flavonolignan component found in milk thistle extract. Its beneficial effects on the liver have been shown in pre-clinical and clinical studies.. Other milk thistle extracts called isosilybin A and B have proven to be the most efficient at helping to maintaining healthy cell division.
The botanical extract in our Milk Thistle formula contains standardized, top-grade potencies of silymarin, silibinin, isosilybin A and isosilybin B. It provides the full spectrum of milk thistle's liver-friendly compounds in a single convenient formula.