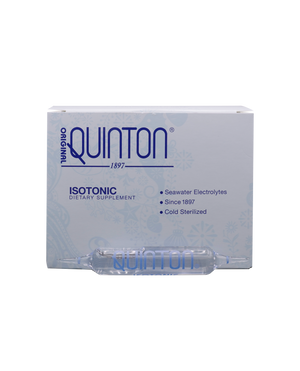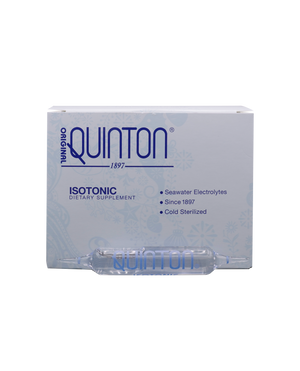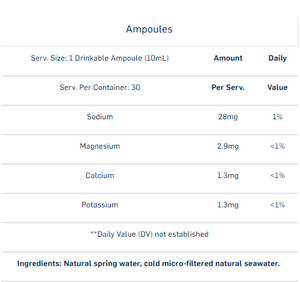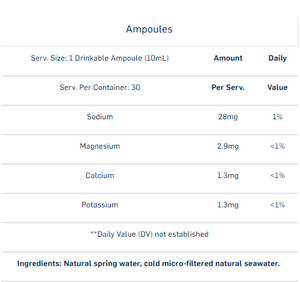 On Sale
ORIGINAL QUINTON® ISOTONIC OR QUINTESSENTIAL® 0.9 AMPOULES
Liquid Mineral Electrolyte Supplement with Trace Mineral Replenishment, Sea Water Minerals Hydration Drink to Support Detox, Relaxation (30 Sachets)
The perfect Isotonic solution of organic ocean minerals diluted with natural alpine spring water to achieve the same consistency as your blood plasma.† Supports homeostasis and rehydration and contributes to normal digestion.*
To learn more about our comprehensive approach to defining and unlocking the keys to age optimization visit our Longevity Resource Pages.
Natural Remineralization*
Quinton Isotonic/QuintEssential 0.9 is a nutrient-rich, raw marine fluid harvested from phytoplankton-rich blooms located deep in the ocean. It offers highly bioavailable ionic minerals, nucleic acids, polysaccharides, and anti-inflammatory nutrients. Together, these compounds hydrate cells, bolster immune function, and promote calming parasympathetic nervous system activity.
Choose between Original Quinton Isotonic glass ampoules or QuintEssential 0.9 sachets in convenient, on-the-go sachets.
Recommended Dosing
Drink 1-3 servings daily on an empty stomach or as recommended by your healthcare professional. If pregnant, breast-feeding or planning to become pregnant, consult your physician before use.