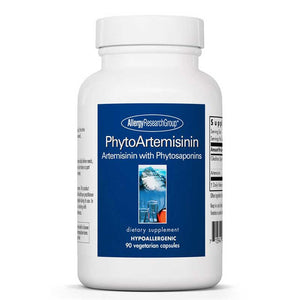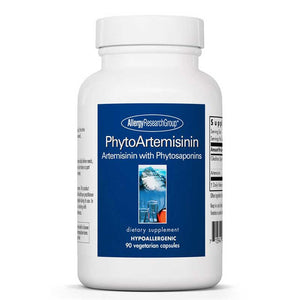 On Sale
PhytoArtemisinin
PhytoArtemisinin from Allergy Research contains pure artemisinin to help reduce histamine levels and promote gastrointestinal health.
Artemisinin is derived from the plant artemisia annua, which is also known as sweet wormwood, sweet Annie and qinghao in China.
This herbal drug extract may help
Support Gastrointestinal (GI) Health
Reduce the release of histamine from mast cells
against drug-resistant malaria strains
PhytoArtemisinin contains pure artemisinin enhanced with phytosaponins, or secondary metabolites from plants, in this case gleditsia.
Artemisinin may potentially reduce the release of histamine from mast cells.
A naturally occurring substance, histamine is involved in stress and allergic reactions. It can lead to diarrhea, headaches, asthma, hypotension, irregular heartbeats, hives, itchy skin, runny noses, sneezing, congestion, and cramps in histamine-intolerant individuals.
Artemisinin may also help balance the microbiology of the gastrointestinal (GI) tract.
From the perspective of Traditional Chinese Medicine, artemisinin is cold, whereas phytosaponins are warm, complementing artemisinin and resulting in a more balanced formula.
The combination of artemisinin with phytosaponins may provide other synergistic benefits, including enhancing the activities of absorption and targeting.
Gleditsia (Gleditsia sinensis), or Chinese honey locust, is found in the woodlands of western China.
Traditionally, all parts of the gleditsia plant have been used, and it may have antipruritic, astringent, expectorant, hemostatic, purgative and other properties.