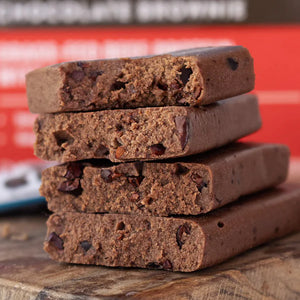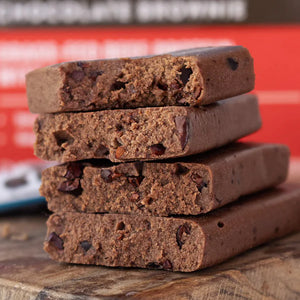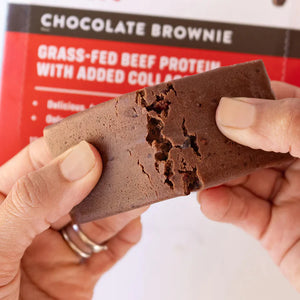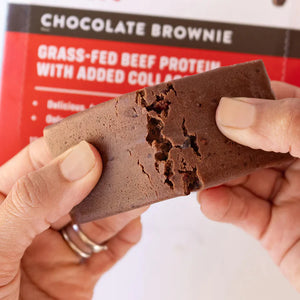 On Sale
Prime Bar: Chocolate Brownie
12 grams of grass-fed beef protein with added collagen. Complete protein.
YOUR FAVORITE, SATIATING, GUILT-FREE SNACK!
We're known for our Prime Protein, grass-fed beef protein powder with only quality ingredients that tastes like dessert. We spent two years developing a delicious, high-quality protein bar using our grass-fed beef as the primary protein source to give customers the Prime Protein they love in a convenient and delicious bar form – perfect for a satiating, quick snack on the go!
GRASS-FED BEEF + COLLAGEN, IN BAR FORM...
Each bar provides 12 grams of protein from grass-fed beef with added collagen for additional joint, bone, and skin health benefits. In each bar, you get complete protein from a quality source with an unmatched texture and taste.
SUPER GOOD FOR YOU, AND STILL TASTES LIKE DESSERT
We were tired of protein bars that taste like chemicals, with chalky textures, incomplete protein, and a long list of questionable ingredients, so we carefully crafted this bar to ensure it does just the opposite - natural, delicious taste, fudgy texture, complete protein with just a handful of carefully sourced, real food ingredients, sweetened with monk fruit and honey.
ALL THE THINGS YOU NEED, NONE OF THE THINGS YOU DON'T
We think protein bars should be made of pure protein, not chemicals and junk your body doesn't need. That's why the Prime Bar is made from real, whole ingredients only.