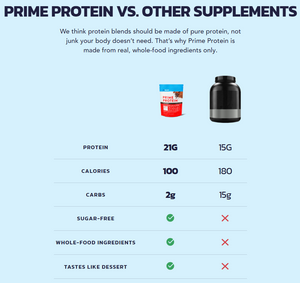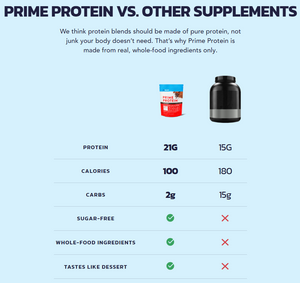 On Sale
Prime Protein
21g of bioavailable, complete protein from grass fed beef per scoop. 30 servings per bag.
A MIGHTY AMOUNT OF PROTEIN IN EVERY SCOOP
Every serving of Prime Protein contains 4 oz of grass-fed beef. That's 21g of protein and absolutely no sugars. We use stevia to sweeten our flavored blends but Unflavored Prime is stevia-free.
WHY USE BEEF OVER OTHER PROTEIN SOURCES (LIKE WHEY)?
Beef protein is packed with the collagen, gelatin, and micro-nutrients your body needs. Unlike other protein powders, it's not packed with possible allergens found in soy, dairy, egg, or whey. Studies have shown that beef protein provides additional benefits to strength, hypertrophy, and fat loss over whey.
SUPER GOOD FOR YOU, AND STILL TASTES LIKE DESSERT
Prime Protein is tastes like dessert (vanilla, strawberry or chocolate - you pick!). That means you can add Prime Protein to any drink or recipe for a delicious way to get whole-food protein.
ALL THE THINGS YOU NEED, NONE OF THE THINGS YOU DON'T
We think protein blends should be made of pure protein, not chemicals and junk your body doesn't need. That's why Prime Protein is made from real, whole ingredients only.