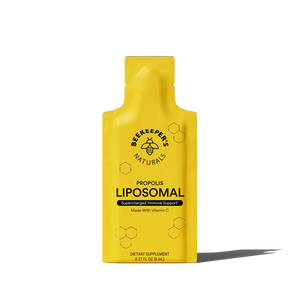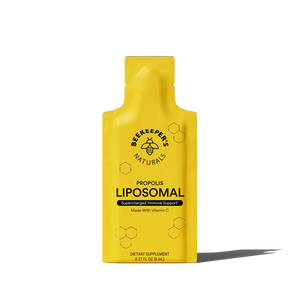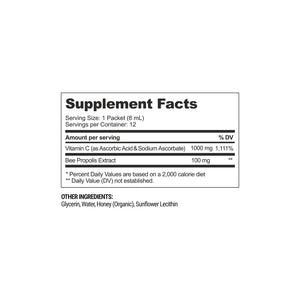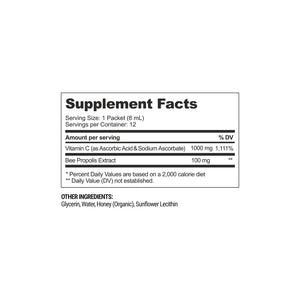 On Sale
Propolis + Vitamin C Liposomal
Supercharge your immune support with a liposomal formula delivering 100mg of propolis and 1,000mg of Vitamin C.
SUPERCHARGED IMMUNE SUPPORT
Liposomal delivery system offers optimal absorption & maximizes usability and bio-availability.
Propolis supports your immune system with antioxidants, zinc, iron, B vitamins, and over 300 other beneficial compounds.
Naturally contains flavonoids and polyphenols that fight free radicals and combat oxidative stress.
Vitamin C provides extra defense for a healthy immune system and is known to support muscle recovery and healthy collagen levels for glowing skin.
USE FOR
Immune Support
Traveling
Antioxidant Support
After workouts
Build a routine: pair it with Propolis Throat Spray for supercharged immune support.

WHAT IS PROPOLIS?
Propolis is the defender of the hive. Bees use it to line the walls and keep germs out. We use it to support our immune systems, soothe scratchy throats, combat free radical damage in the body, and feed the good bacteria in our gut.
Vitamins B, C & D
Zinc
Antioxidants
300+ Beneficial Compounds