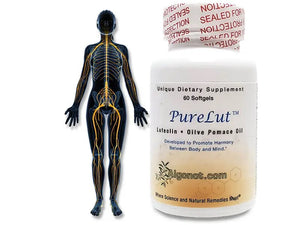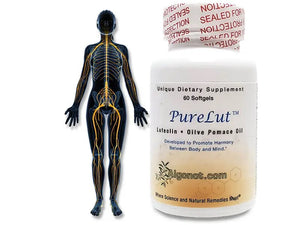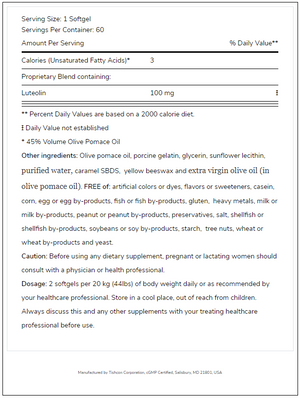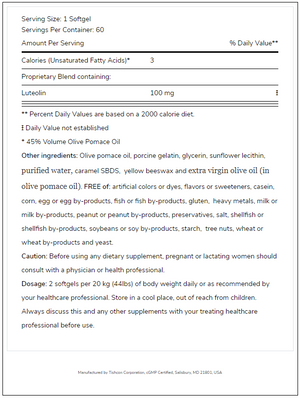 On Sale
PureLut
PureLut™ – a unique, patented, all natural oral dietary supplement in a softgel which may promote harmony in and between the body, and mind. OUTSTANDING SUPPORT FOR BRAIN HEALTH AND AGAINST MITOCHONDRIAL AGING.
PureLut™ formula, using the main ingredient, luteolin, a flavonoid, is formulated based on published scientific research. PureLut™ is formulated to maximize effects of flavonoids while also overcoming any absorption obstacles. The structure of all flavonoids contains molecular groups that are called phenols that may induce temporary hyperactivity in individuals who cannot metabolize such compounds efficiently. As an example, such individuals may become hyperactive to foods that are rich in phenols such as berries, grapes and chocolate. For this reason, Algonot created PureLut™ to minimize the amounts of phenols present in any product that contains a complex of luteolin with other flavonoids.
PureLut™ is FREE of: artificial colors or dyes, flavors or sweeteners, casein, corn, egg or egg by-products, fish or fish by-products, gluten,  heavy metals, milk or milk by-products, peanut or peanut by-products, preservatives, salt, shellfish or shellfish by-products, soybeans or soy by-products, starch,  tree nuts, wheat or wheat by-products and yeast. Our ingredients are not obtained from beef or beef by-products.
THE EFFECTS OF OXIDATIVE STRESS, INFLAMMATION AND MITOCHONDRIAL DYSFUNCTION ARE DAMAGING YOUR BODY.
Do you feel like your neurological functions such as memory, learning and motor skills have faded or just are not what they should be? Does it seem you have more BRAIN FOG? This could be from oxidative stress, natural aging, mitochondrial aging, poor nervous system health.
Do you feel like you aren't absorbing the nutrients from the food you are consuming? Does consuming certain foods cause discomfort or disharmony? You may suffer from absorption obstacles. Your body requires certain nutrients to flourish. If you are not getting these nutrients, you may be opening the door for many negative symptoms.
If you are having a problem absorbing the nutrients you need, you may have a number of negative results. There are many negative side effects from lack of nutrient absorption. There are also foods that can trigger brain fog, gut discomfort, inflammation, and body/mind disharmony.
Implications
Blood-Gut and Brain Barrier disruption, Inflammation, Mast cell Activation, Neuronal damage, stress
The unique, patented, formulation of pure luteolin with olive pomace oil may help*:
Reduce production of free radicals
Limit inflammation
Minimize stimulation of mast cells
Tolerate sensitive foods
Protect neurons
Increase attention, concentration, focus and learning
Decrease age-related memory deficits