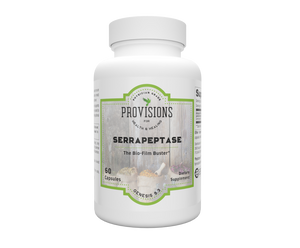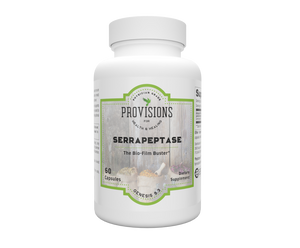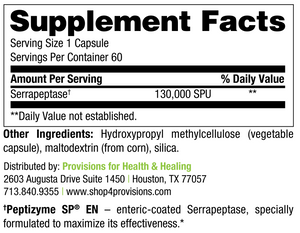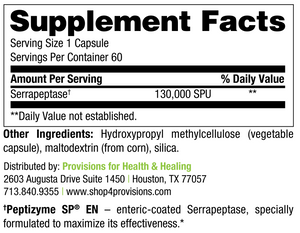 On Sale
Serrapeptase (60 caps)
Supports Healthy Fibrin* 130,000 SPU per capsule
Serrapeptase is a powerful systemic enzyme which supports respiratory and sinus health. This formula is enteric-coated to survive the acidic conditions of the stomach, promoting optimal absorption.
Serrapeptase – also known as serrapeptidase, serratiopeptidase and serratia peptidase – is a powerful proteolytic enzyme derived from a species of bacteria originally found in the intestine of silkworms. The bacterium, Serratia marcescens, produces the enzyme serrapeptase to enable the silkworm to dissolve its silken cocoon and emerge as a moth after metamorphosis. Serratia is now grown in cultures to produce serrapeptase by fermentation, and it is suitable for vegetarians.
Most serrapeptase brands on the market are not enteric-coated, which means they can lose a significant portion of their effectiveness in the acidic environment of the stomach. The enteric coating of our blend maximizes efficacy by allowing these sensitive enzymes to survive the acidic conditions of the stomach, allowing them to pass into the circulatory system and maintain high activity levels.