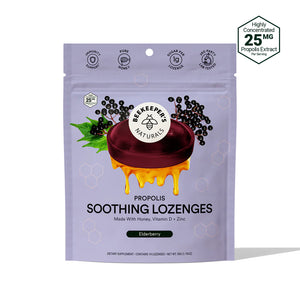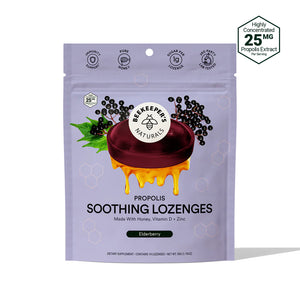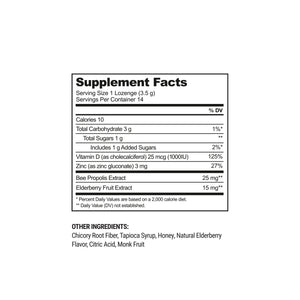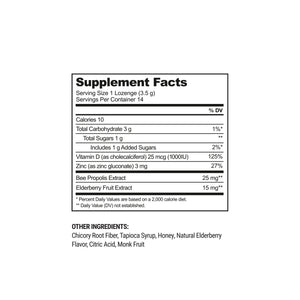 On Sale
Soothing Lozenges - Elderberry
Can we get *mic drop* for nature's favorite cough drop? We combined the hive's two most powerful throat soothers (honey and propolis) with elderberry (the buzziest superberry out there) to create a clean cough drop with only one gram of sugar. These don't just mask your symptoms; they support your overall immune health so you can get back to feeling like yourself. And by the way, they taste amazing.
NOT YOUR AVERAGE COUGH DROP
Support your immune system with Propolis, Vitamin D and Zinc
Soothe your throat
Elderberry is packed with antioxidants and helps rid the body of free radicals that cause oxidative stress
Only 1 gram of sugar
Now made with liquid propolis for a smoother, richer flavor
USE FOR
Clean Alternative To Traditional, Sugar And Chemical-Filled Cough Drops
On-The-Go Immune Support
A Dry, Scratchy Throat
Strengthen Immune System With Elderberry
Build a Routine: Pair Soothing Lozenges with Propolis Throat Spray to get your daily dose of Propolis, Zinc, and Vitamin D on the go.

WHAT IS PROPOLIS?
Propolis is the defender of the hive. Bees use it to line the walls and keep germs out. We use it to support our immune systems, soothe scratchy throats, combat free radical damage in the body, and feed the good bacteria in our gut.
Vitamins B, C & D
Zinc
Antioxidants
300+ Beneficial Compounds