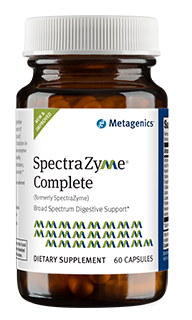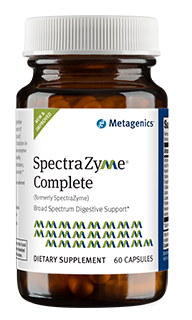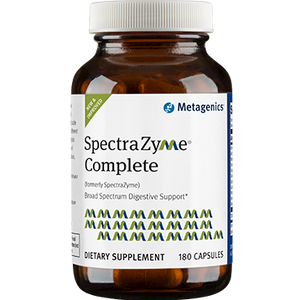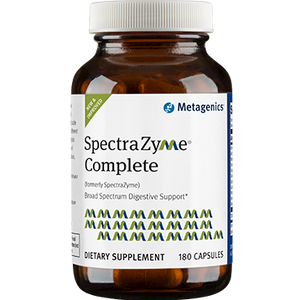 On Sale
SpectraZyme Complete
Why SpectraZyme Complete®?
The state of your digestive health is directly connected to your overall health. Because a number of factors such as high stress levels, frequent travel, and a poor diet can have negative effects on your digestive system, it's important to do what you can to keep it healthy. Digestive enzymes can be beneficial for those with low stomach acid or weak digestive systems. They help your body break down food to ensure that it gets fully digested, thus maximizing your nutrient intake and decreasing chance of food allergies or sensitivities. SpectraZyme® Complete from Metagenics delivers healthy doses of a number of beneficial digestive enzymes to support optimal overall digestive health and function. Enzymes like lipase, peptidase, lactase, and three different proteases provide optimal enzyme activity to help digest carbohydrates, lactose, proteins, sucrose, peptides, maltose, fats, and cellulose.
Manufacturer's Description
SpectraZyme® Complete provides digestive support with a non-GMO, broad spectrum of non-animal derived enzymes including acid stable lipase and three proteases that function in different pH ranges. This comprehensive enzyme complex is designed to support the healthy digestion of proteins, peptides, carbohydrates, fats, cellulose, maltose, lactose, and sucrose.
Other Ingredients: Capsule (hydroxypropylmethylcellulose), medium chain triglycerides , and maltodextrin.
Contains: milk, wheat, and soy.
Directions: Take 2 capsules with each meal or as directed by your healthcare practitioner.
Caution: If taking anti-diabetic medications, please consult your healthcare practitioner before use.
Storage: Keep tightly closed in a cool, dry place.
This product is non-GMO.