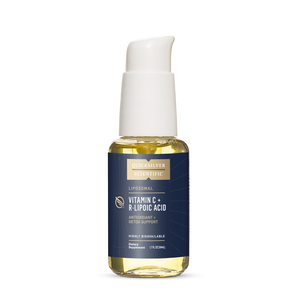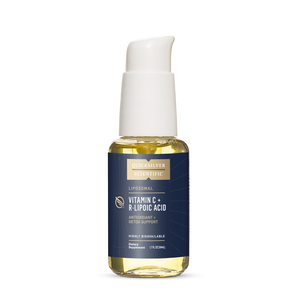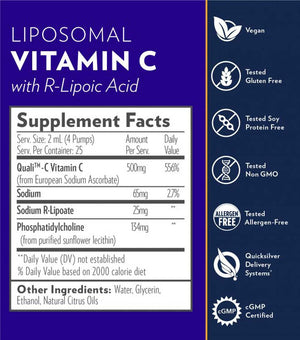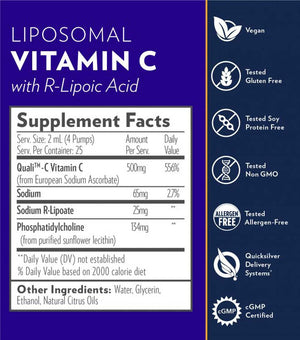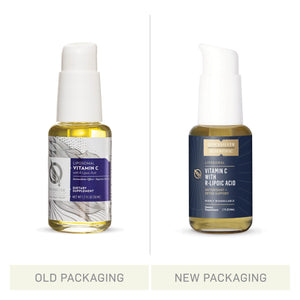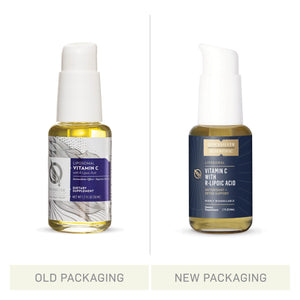 On Sale
Vitamin C RLA Liposomal (Quicksilver)
Each 2 mL of Liposomal Vitamin C with R-Lipoic Acid delivers 65mg of sodium, 500mg of Quali®-C Vitamin C, and 25 mg of Sodium R-Lipoate. A serving size is 4 pumps. Each bottle contains 25 servings.
Two of our most powerful and versatile antioxidants—Vitamin C and Lipoic Acid--are paired to support detoxification throughout the body. In addition to functioning as extraordinary supports on their own, both can aid increased levels of glutathione in the body.*
Even in small amounts Vitamin C can help protect us from damage by free radicals. It is vital to immune function and is an essential cofactor in many enzymatic reactions in the body.*
Vitamin C is essential to the body's production of collagen and the formation of blood vessels, cartilage, ligaments, tendons, and skin. It is needed for wound healing and to repair tissues throughout the body. In the buffered sodium ascorbate form used here, it is well tolerated. R-Lipoic Acid (as the highly bioavailable sodium R-lipoate) can support the action of vitamin C. It is a potent molecule that can support healthy mitochondrial function, and may help the body remove metals.*
Both vitamin C and R-Lipoic Acid can help support production of glutathione, our master antioxidant, and most important detoxifying molecule.*
With oral dosing of conventional vitamin C, absorption decreases with increasing dosage due to gastrointestinal saturation, or "bowel tolerance." For this reason, Dr. Christopher Shade, Ph.D., developed Liposomal Vitamin C, enabling effective, high level dosing. In addition, the formula uses Quali®-C, a premium "buffered" vitamin C in the form of sodium ascorbate. Buffered vitamin C is generally better tolerated by those with gastrointestinal sensitivity. In turn, sodium R-lipoate can reach peak plasma concentrations in ten to twenty minutes.