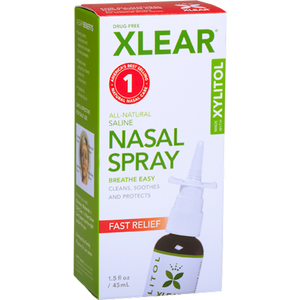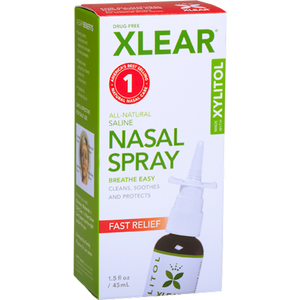 On Sale
XLear Nasal Spray 1.5 oz
Whether you suffer from congestion due to allergies, hay fever, flu, a cold, or airborne irritants and pollutants, the Xlear Sinus care system has right the product for you.
Uses: Congested nose and sinuses. Itchy irritated nasal passages. Nasal exposure to pollutants, dust pollen, and other airborne contaminants.
Benefits: Gently washes, cleans, soothes and moisturizes delicate nasal passages. Thins and loosens mucous secretions. Helps improve airflow.
Why Xlear?
• Reduces bacterial adhesion
• Natural, fast and effective
• Safe for daily use or anytime
• No rebound, non-addictive
• Not a drug - safe for pregnant and nursing mothers
• Gentle enough for infants
• Washes away dust and pollen
• Special hydrating formula developed by a doctor
• Relief for also seasonal conditions
Directions: The metered nasal pump sprayer provides a precise amount of soothing spray in a fine mist. Clear the nasal passageway by gently blowing your nose before using. Prior to initial use, remove safety cap, prime the pump bu holding it upright and pumping one or more times until the solution is dispensed. Insert nozzle into nostril and depress pump completely while breathing in through your nose. Spray 2-4 times in each nostril. Clean nozzle after use and replace safety cap. Use at least twice daily - morning and night.